When I watch Raw, I suffer through diva matches. It's horrible, horrible, horrible watching. My point is, and has always been, that if you want to see naked women, there is porn. And if you want to watch wrestling, there is wrestling. Don't mix chocolate and shit. Mix chocolate and peanut butter. Trust me on that.
I am not saying that there are not great women's wrestlers. Nor attractive ones. But girls chosen strictly for their looks are usually never all that good in the ring and it just ends up making my teeth hurt.
That said, I am here this early morning to let you in on something.
The women you grew up watching wrestle in the 80s? Not that hot.
To wit:
Yeah. That was one of the 80s sex symbols. I would like to share that when doing the research on her, I learned that "Simmes then competed in an 8-person mixed tag team match partnering with Rhodes, Nikita Koloff, and Barry Windham against Cornette, The Midnight Express, and Dick Murdoch." Jesus, what I wouldn't give to see Dick Murdoch work her
It gets worse. Oh, much worse. Let's take a look at…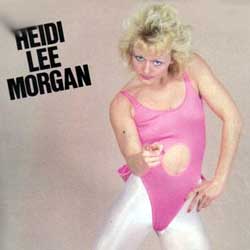 Yes, this is the other member of Team America.Sadly, they were a team in the 80s and had no access to a time machine, allowing them to come out to "America! Fuck Yeah!" You see, the announcers always put over how hot these girls were. Oh, man. Well, maybe, when you consider these were the NWA ladies. Are you prepared for what awaits you in the WWF?
I have to explain a phenomena to you. I call it a soft on. It's when yo get so unturned on, yourpenis gets softly erect. Almost like a white dwarf star, the density of your penis causes it to collapse within itself, and you can maybe never get an erection again. Take a look at this photo. Yep. You are never getting hard again. "Haw haw haw," as Satan would say in a Jack Chick comic.
That said, you know, Wendi Richter laughs at Bret Hart being upset about Montreal. She was the original screwjobee. I go to wikipedia here for this and will comment.
"In 1985, after losing and then regaining the title from rival Leilani Kai at the inaugural WrestleMania, Richter was scheduled to defend her women's title at Madison Square Garden on November 25 of that same year against a mysterious masked opponent known only as The Spider Lady. Moments into the match, The Spider Lady broke from the pre-scripted events and pinned Richter's shoulders to the mat. The referee—who was in on the plan—delivered a swift three count, despite Richter kicking out after a a count of one. Richter ignored the bell and continued to attack the Spider, unmasking the new champion to reveal that it was The Fabulous Moolah in disguise."
Dude, let me repeat. She ripped her hood off after the match like it was a fucking real life wrestling angle. And it wasn't. Bret thought some crazy shit happened? Dude. C'mon. Wiki goes on…
"It was reported that the plan to rid Richter of the title was concocted by WWF Chairman Vince McMahon, who brought in Moolah after Richter refused to sign a new contract with the WWF. Richter, however, claims she was still under her original five year contract, but that she regularly had disagreements with McMahon about her compensation. She also claims that when she arrived at the arena that day, she was surprised to find Moolah backstage, as Moolah never showed up to events for which she was not scheduled to wrestle. After the match, an infuriated Richter left the arena in her wrestling gear, took a cab to the airport, and booked herself on a flight out of New York. Afterward, she never spoke to either McMahon or Moolah again."
I'd also like to add that she was once married to Hugo Savinovich. You may have seen Hugo running as his table is destroyed again and again as he tried to give you Spanish commentary. I just told this fact to Noah and he said, "Oh. They put that dude through a table before. Why did they always break the Spanish announce table? Did they not like Spanish people?" Noah likes to ask a lot of questions.
As you can see, the 80s wrestling women were not very attractive. But what about the valets?
Baby Doll managed Tully Blanchard. Then he threw her away and Dusty swooped in. She also managed the Warlord. And, as we can see, managed to look like an anvil in he face department. Right now in your head, you should hear Jim Neidhart go "HEH HEH HEH HAH!"
Recently, Baby Doll managed Jeff Jarrett against Tully. A sick part of me wants to see that match.